Masterclass complete FaceBook Marketing
Learn Complete Facebook Marketing and Unleash the Secrets to get Success in the Field.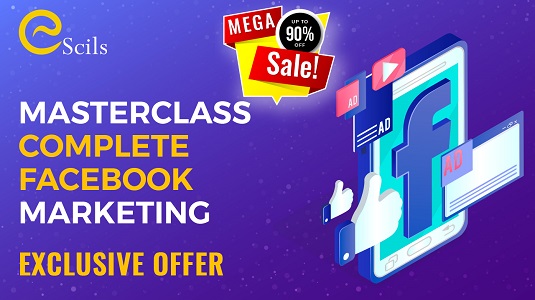 Industry Recognized Credential!
Get the industry-recognized verified certificate
The best & easy learning pattern
Including Additional Features
Lifetime Access
30 Days Money Back Guarantee
24/7 Quick Support
Feasible Access To All Modern Devices
What's Inside the Course?
This course will show you how to create a channel that has more than a million views, generates revenue on a myriad of ways, and helps you grow your personal brand.
Facebook Marketing Page Vs Group Vs Personal (7:43)
Viral Coefficient Focumula (5:06)
How To Boost Virality (3:11)
Ads Boosting Virality (6:17)
All about Facebook business pages (9:14)
Combo Of Virality And Ads (7:18)
NEW-Elements-of-a-good-Facebook-business-page-or-fan-page (4:30)
Facebook-study-on-low-engagement.-Dont-worry,-soon-well-learn-to-increase-it. (3:03)
Establish-yourself-as-an-expert (3:59)
Likes-vs-Shares.-Very-important-distinction (2:45)
Visual-products (2:05)
Buffer-app-to-automate-social-media-updates (1:20)
NEW-NOV-7-Facebook-edge-rank-algorithm--how-to-game-it-to-get-more-exposure (6:55)
More-on-the-edge-rank-algorithm (2:48)
Section-introduction (1:47)
What-kinds-of-Facebook-updates-get-the-most-engagement (5:38)
Using-hashtags-in-Facebook (2:38)
Best-number-of-Facebook-updates-per-day (3:44)
How-to-maximize-social-sharing-by-building-it-into-your-product (2:44)
NEW-NOV-05,-2014-How-to-write-good-headlines-that-increase-clickthrough (5:35)
How-to-make-generally-more-engaging-Facebook-posts (3:00)
NEW-How-to-cheaply-get-a-lot-of-Facebook-engagement-and-boost-SEO (6:36)
NEW-Ideal-update-length-to-increase-engagement-by-27 (3:02)
The-1000-likes-threshold-after-which-engagement-doubles (3:20)
NEW-Growth-hack-to-increase-likes,-shares-and-comments-hundreds-of-percent (5:00)
How Many Times Per Day To Post On Facebook (2:54)
Mentioning Other People (1:40)
How-being-overly-promotional-damages-your-organicfree-engagement (1:55)
Best-hacks-to-sell-from-Facebook-for-free-without-paying-them (8:03)
Examples-of-successful-Facebook-groups-and-poorly-run-Facebook-groups (7:46)
Examples-of-successful-Facebook-groups-and-poorly-run-Facebook-groups (7:37)
NEW-How-to-use-images-in-posts-to-increase-engagement (5:05)
25-Ways-to-promote-your-business-on-Facebook-LIGHTNING-ROUND (8:03)
25-Ways-to-promote-your-business-on-Facebook-LIGHTNING-ROUND (8:20)
25-Ways-to-promote-your-business-on-Facebook-LIGHTNING-ROUND (7:18)
NEW-Facebook-boosted-posts-experiment-conclusion,-results-and-strategies (4:03)
NEW-Facebook-boosted-posts-results-and-suggested-strategies (6:50)
Where-ads-and-organic-updates-get-most-exposure-and-how-to-optimize-ads (2:46)
NEW-Facebook-paid-advertising-to-sell-products (10:01)
NEW-Facebook-paid-advertising-to-sell-products (6:31)
NEW-How-to-sell-using-pinned-posts (1:51)
NEW-How-I-sell-on-Facebook-in-an-effective-and-legitimate-way (3:52)
3FB Ads Strategies (4:04)
All The Benefits Of Social Media And Autromation (2:00)
Creating The Ad Format (4:10)
Facebook Ads Section Intro (1:30)
Hash Tag Marketing (4:19)
How To Get To Facebook Ad Dashboard (0:47)
How To Install Facebook Pixel (3:58)
How To Set Up Your Facebook Page For Ads (1:04)
How To Set Up Your Facebook Page For Ads Look a like Audience (1:49)
Setting The Targeting For Your Ad (3:24)
Retargeting With Facebook (2:23)
Showing Social Oomph (3:36)
Social Media Automation Intro Section (1:39)
Targeting Pro Tip (1:40)
Social Media Automation Tools (5:01)
Which FB Ad To Choose (2:29)
Facebook Group By lines (2:24)
Facebook Automation Section Introduction (1:22)
Facebook Group Positioning (2:34)
Facebook Groups Introduction (0:59)
Facebook Making Your Content Visual (3:56)
Facebook Marketing From Personal Profile (4:11)
Facebook Marketing Sales Video With Music (1:38)
Facebook Page Boosting Engagemnt With Comments (3:40)
Facebook Page Star Rating (1:38)
Few Post Ideas (2:17)
Going Facebook Live On Mobile (0:49)
Hack To Get Extra Engagement (0:52)
How The Facebook Algorithm Works (4:43)
How To Engage Your Facebook Group (4:07)
How To Populate A Facebook Group (3:13)
How To Set Up A Professional Facebook Page (4:24)
Introduction To Facebook Live Section (1:24)
Like Vs Share2 (2:29)
NEW Facebook Intro Lecture (1:44)
New Intro Facebook Lecture (2:28)
Personal Page Privacy (1:16)
Sharing Info Graphic (1:00)
Using Colored Backgroun Posts (2:08)
Tips For Running Your Facebook Live (2:52)
What To Expect From Facebook Marketing (3:23)