The efforts of exploring 122 amazing social media statistics and real facts that indicating how people use the big platforms for entertainment and business purposes worldwide
Artificial intelligence has proven the facts of the internet where every click, view, like and sign up are being recorded in backend at somewhere.
It's quite interesting and depending on your opinion, it is either uncommon or brilliantly amazing. We are researchers at eScils and concerned to dig out the social media statistics and facts.
After a comprehensive study of all kinds of available interesting statistics about social media platforms and users, we compiled the best and informative bunch of extracted data.Surely, the extracted facts will be useful to any social media marketing managers to drive their strategy towards the right path.
First look at the resulted facts may confuse your mind because of the biggest database of users. Filtering the data into ten and hundreds of millions and billions of hours are not that easy and data presentation is also a tough task.
Social media marketing managers should know the statistics behind the social networks that can support them to build a market-oriented strategy and spend time for targeting the right audience.
Social Media Statistics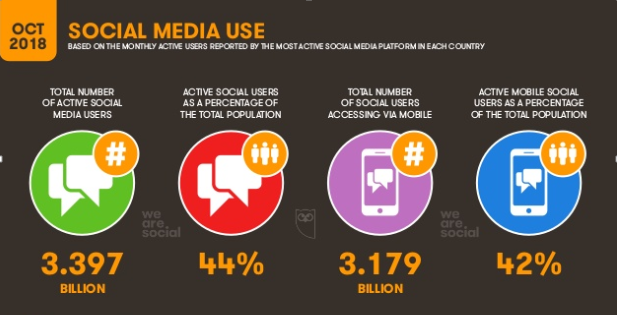 Above stats are self-exploratory that describing the numbers of internet users and number of people that love to spend much of their time using social media networks.
Social Media Users' Stats
Synod

Social Media Platforms

Users

1

22 million

2

150 million users

3

2.271 billion users

4

90 million users

5

Google+

111 million users

6

1billions users

7

562 million users

8

15 million users

9

10 million users

10

200 million users

11

Reddit

542 million users

12

186 million daily users

13

326 million users

14

1.12 billion users

15

600 million users

16

900 million users

17

1.5 billion users
Social Media users' stats shows the high involvement of internet users in social media platforms. Also, it provides open an opportunity for marketers to get maximum advantages from it and targeting the right audience.
If you think all social media channels are difficult to manage then you can choose the most preferable one. Take a look at given charts that evaluate the popularity of each social media platform country wise.
Apart from the above stats, smartinsights shows the most popular social networks based on the share of minutes
Video Stats on Social Media
Fascinating Content Statistics
Google statistics
Facebook statistics
The above statistics of Facebook are fascinating for social media marketers. If you want to learn more about Facebook stats, click here
Twitter statistics
Twitter is full of life social media platform that appeals to users by its unique features. It can also be used to endorse brands and provides them an immense boost. Twitter dynamics welcome professionals to start and grow their brands. The above-mentioned statistics have proven the importance of twitter.
If you are willing to explore more about Twitter statistics, then click here.
YouTube Fascinating Statistics
YouTube has become an essential part of digital business and promotion hence it is good to know the depth of this valued social video network. YouTube advertising is extremely best to provide quicken growth to your brand and its awareness but your small negligence can terminate your overall efforts. Above-mentioned statistics are attractive to marketers.
If you want to get more stats about YouTube, click here
Instagram statistics
Instagram has also become a popular foundation for articulating thoughts and daily life instants. The sensible use of this popular channel will support individuals and businesses to grow. The above mentioned statistics encourage social media marketers to make strategy by considering the dynamics of Instagram.
Pinterest statistics
LinkedIn statistics
If you want to get more statistics of LinkedIn, click here.
Snapchat statistics
The given stats for social media are amazing and providing opportunity to accelerate your business strength and strengthen your brand perception by using social networks. Also, these statistics were collected from well-known and official websites and we surely will update it by the time.
Keep in touch with us to have up-to-date knowledge of social networks with a better understanding.