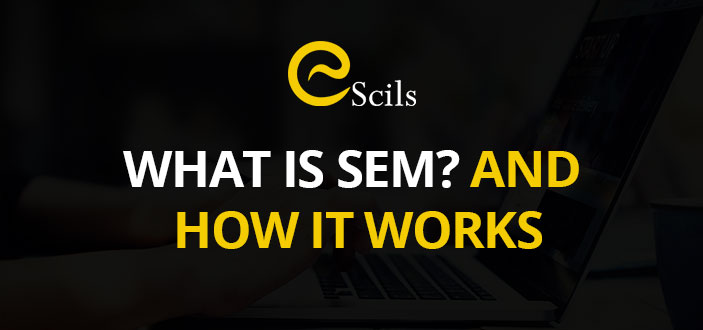 SEM stands for "Search Engine Marketing". It is used to maximize your website traffic by purchasing ads on search engines that make your brand top on search. Previously the term "SEM" was used for both search engine optimization (SEO) and paid search activities. By the time, it is solely linked with paid search activities.
While using search engines, we usually use SEM or paid search in order to refer the paid listings. In this article, we define the SEM in a comprehensive manner.
• Paid Search Ads
• PPC (Pay-Per-Click)
PPC (pay-per-call) – some ads, mostly those served to mobile search users, can be charged by the number of clicks' attempts by users that resulted in a direct call from a smartphone.
• Paid Search Advertising
• CPC (Cost per click)
• CPM (Cost Per Thousand Impression)
Most search ads are sold on a CPC / PPC basis, but some advertising options may also be sold on a CPM basis.
SEM Basics:
If you are at a beginner level in SEM, you need to understand the framework of Google Adwords that is used by digital marketers. Google Adwords is also the most popular paid search platform, followed and powered by Bing Ads, and also serve an important part of Ads on Yahoo. There are also second-tier PPC platforms as well as PPC advertising selections on the main social media channels.
Furthermore, while covering the common paid search trends, you can find out the fresh courses about SEM and get the useful tips to continue with PPC ads on the eScils. The best eLearning platform like eScils also describes the key topics related to SEM and SEO.
Every platform deals with its own basics guideline and useful tutorials so that you can easily understand how to use. SEM supports you to get the power of search engine like Google to reach potential customers.
There are some social networks that also offer ad services like Facebook Ads and Twitter paid trends etc. So here a question arises that such social media networks are also the part of SEM? Because these networks also involve the search functions. But remember, social media advertising and SEM aren't generally the same thing.
In social media advertising, ads are usually appeared based upon data that is gathered by social media channel individually. It permits you to meet with your target audience as per their interest, locations, demographic and psychographic etc.
As far as Search engine marketing is concerned, it relies on the keyword phrases to target people when they're performing searches in places like Google and Yahoo etc. Social media advertising and SEM aren't similar. But they can work together very effectively to increase brand awareness, building good perception and increasing sales.
In order to get the best results, you can also use SEM, SEO and Social media marketing all together for getting massive response from your target audience. If you are not clear about SEO, take an example: When a user searches for "How to make a bicycle", Google uses an algorithm to determine which web page can provide the best and relevant answer of the asked query. Then Google ranks the pages according to how perfect it is and analyze that page can answer that question.
Google's objective is that you find exactly what you're looking for at the top of page 1 in search results. SEO is all about positioning your website so that Google determines that you're the best website to answer the query.
To make it more clear and accelerate your power in digital marketing, you should enroll in the power courses, offered by eScils.